Apply for a Renovation
Loan with attractive
interest rates and
minimal formalities.
Take a step closer to renovating your
dream home with us.
House Renovation Loan Comparison
This table shows some of the loans you can get from leading banks along with the interest rate they charge and monthly repayment you will have to make based on a renovation loan amount of S$30,000 with a repayment period of 3 years (monthly rest interest rate)
What can you use the home renovation loan for?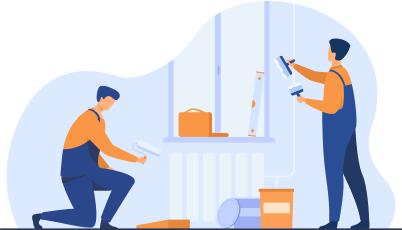 You can use the home renovation loan for:
Building new cabinets across your flat or home
Painting and designing new interiors
Fixing the electrical works or adding new wiring
Making structural changes in your home
To redo the flooring and doing tiling work
Installing new solar panels
Renovating the exterior compound of your house
Renovating the exterior compound of your house
Have any other changes to make? Well, you can talk to our experts for free to consult for free about
loans for home renovation.
Home Renovation Loan vs
Personal Loan
Home Renovation Loan
You can use a home renovation loan only for the purpose it is intended–which is–renovating your home. That is, you cannot divert its funds for any other use.
To take a home renovation loan, you need to show proof of the ownership of the house or give consent to a related family member to renovate the house
Generally, the loan amount is lower and can be anywhere up to $50,000 SGD
Loan rates can start around 2% per annum
Personal Loan
You can use a personal loan for any purpose. Of course, you can take a personal loan for even renovating your own home.
Here's the best part: if you can't show proof of ownership, you can still take a personal loan and use it for home renovation.
The loan amount you can apply under personal loan can be way higher and even beyond hundred thousand dollars
Loan rates can start around 3% per annum
Confused which one to use? Talk to our
home loan experts.
Who can apply for a home renovation loan?
The eligibility criteria for home renovation loan can vary from one bank to another. However, some of the common criteria may look like following:
Citizenship:Anyone who's a singapore Citizen or a permanent resident in Singapore
Age:Usually it is between 21-65 years
The property ownerhimself or any related family member including only a parent, a spouse, a child or a sibling and also has the consent of the property owner.
You can also apply as a single owner or a joint owner
To know more about the loan and check your eligibility, click the button below.
How long does it take to get a home renovation loan approved and disbursed?
Usually the loan amount disbursed varies from bank to bank–and depends a lot on the
bank's approval process and borrower's circumstances:
What's the annual income of the borrower
What the borrower is going to renovate in the home using loan
Some banks also charge a percentage of the loan (usually 1%) as a handling fee.
Here are all the banks we work with to give you the best home renovation loan option
We Have Helped Over 524 Singaporeans Choose The Best Home Renovation Loan Option